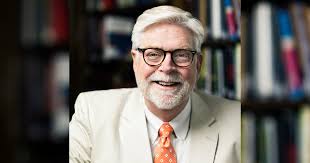 Dr. Hershael York preaches from Luke 23:32-43, in which two thieves are crucified with Jesus. While one man responds with humble repentance, the other with arrogant demands.
About Dr. Hershael York
DEAN OF THE SCHOOL OF THEOLOGY; VICTOR AND LOUISE LESTER PROFESSOR OF CHRISTIAN PREACHING (1997)
Hershael York has served as the 11th dean of Southern Seminary's School of Theology since 2018, and as the Victor and Louise Lester Professor of Christian Preaching since 1999. Since coming to Southern in 1997, York has authored two books on speaking and preaching and has written dozens of articles in journals and online publications. His preaching has been featured in Preaching Today as among the best in North America, and he has twice preached at the International Congress on preaching in Cambridge, England.
He currently serves as the senior pastor of Buck Run Baptist Church in Frankfort, Kentucky, where he has led the 200-year-old church in growth that necessitated relocation to a 100-acre campus and new facilities. York frequently ministers internationally, especially in Brazil, where his father was a missionary. Before joining the faculty of Southern Seminary, York pastored the Ashland Avenue Baptist Church in Lexington and the First Baptist Church of Marion, Arkansas.
Visit Buck Run Baptist Church