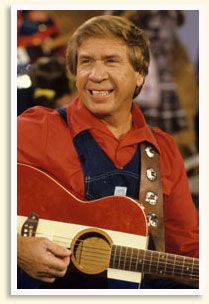 The memorial service was held at Valley Baptist Church in Bakersfield, California on April 2, 2006.
The service proceeded as follows:
Music by The Birds Herb Pedersen and Chris Hillman.
Prayer and Introduction by Dr. Roger Spradlin.
Larry shotgun Daniel's eulogy.
Buck's recording the Dust on Moma's Bible.
Buck's nephew Mel Owens jr. speaks.
John Berry sings Blessed Assurance. J
Ohnnie Dale Owens speaks( named after his uncle Dale Remling)
Wayfaring Stranger by Trace Adkins.
Buddy Owens Speaks.
Dwight Yoakum speaks and sings In The Garden.
Brad Pasley speaks and sings.
Michael Owens speaks.
Message by Dr. Roger Spradlin.
Lulu Roman speaks and sings Amazing Grace.
We Miss you Buck. You blessed us all.